Akers Family Genealogy Home Page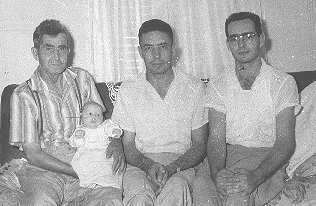 Four Generations... James Akers, Phillip Lee Akers, William Donald Akers and Jimmy Donald Akers
---
I feel somewhat presumptuous making the claim that this is the Akers Family Genealogy Home Page... but I won't let that stop me (smile). This home page actually only contains my family tree and is being made available to foster the growth of more of this type of information on the Web. I thank my parents, Jim and Sara Akers, for making the information that they have collected over the last 20 years available to me for this effort.
Phillip L. Akers
Please address any comments or suggestions to:
pakers@akers.com
Akers Family Genealogy Information
The Surname List
Genealogy and WWW
The Akers Family Genealogy Forum.
To see how others are using WWW for genealogy see the Genealogy Homepage.
Whats New?
Added the surname list. 6/11/94
Added link to the Genealogy Homepage. 7/10/94
Major Update. 1/31/97
Added the Akers Family Genealogy Forum courtesy of www.genforum.com. 10/28/98
New picture with image mapping added. 01/23/99
---
Created: June 12, 1994
Revised: January 23, 1999
pakers@akers.com